We're proud to announce that the HPS PERFORMANCE Shortram Air Intake System with Heat Shield is NOW AVAILABLE for purchase. In Stock!!!! and Ready for Shipment to your Business.
The All-New HPS Performance Air Filter is designed with performance in mind, delivering excellent filtration without sacrificing airflow.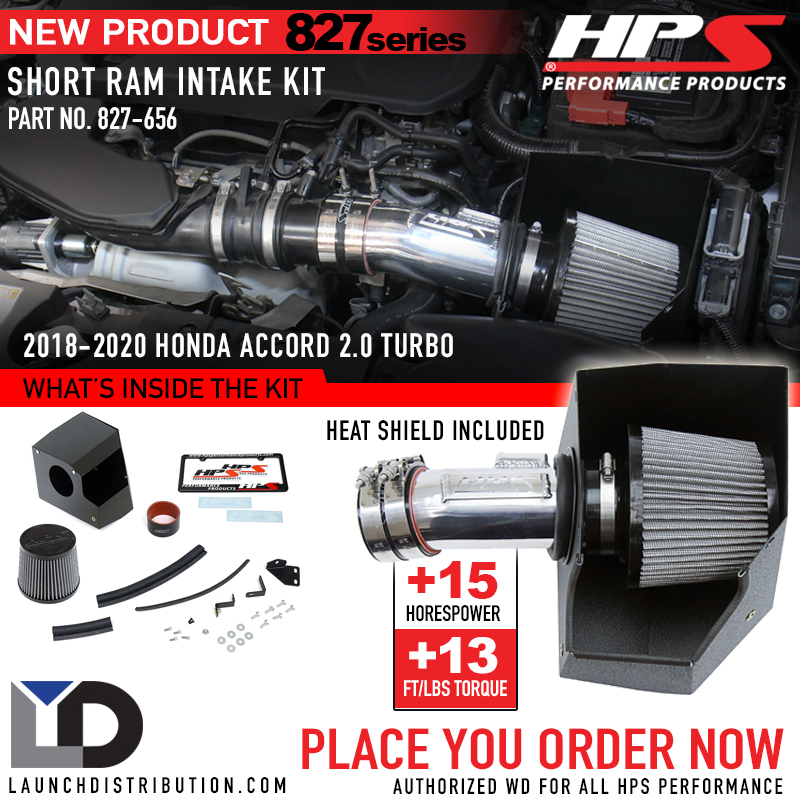 About Part no. 827-656:
The All-New HPS Performance 827 Series Air Intake Kit (827-656) for 2018-2020 Honda Accord 2.0L Turbo offers a free-flowing 3 inch mandrel-bent aluminum tube induction system designed to produce dyno proven performance gains – increase horsepower +15 whp , torque +13 ft/lbs and improve throttle response while maintaining safe air fuel ratio. A heavy duty powder coated steel heat shield integrates with the factory fresh air scoop to direct cold air to the air filter for the best cooling effect. This kit does NOT require tuning and does not trigger CEL light. No modification is required during the installation. The HPS light weight mandrel-bent aluminum alloy tube replaces the stock restrictive air box and optimizes the airflow with excellent heat dissipation and long lasting durability. HPS Performance 827 Series air intake kit features race proven reinforced silicone hoses and industrial grade 100% stainless steel T-bolt clamps which ensures reliability, even during the most extreme driving conditions.
Call your LAUNCH Sales Rep NOW!!!