AVAILABLE Mid JUNE 2020!!!!!!
Introducing the KW Variant 3 coilover for the 2020 Corvette Stingray C8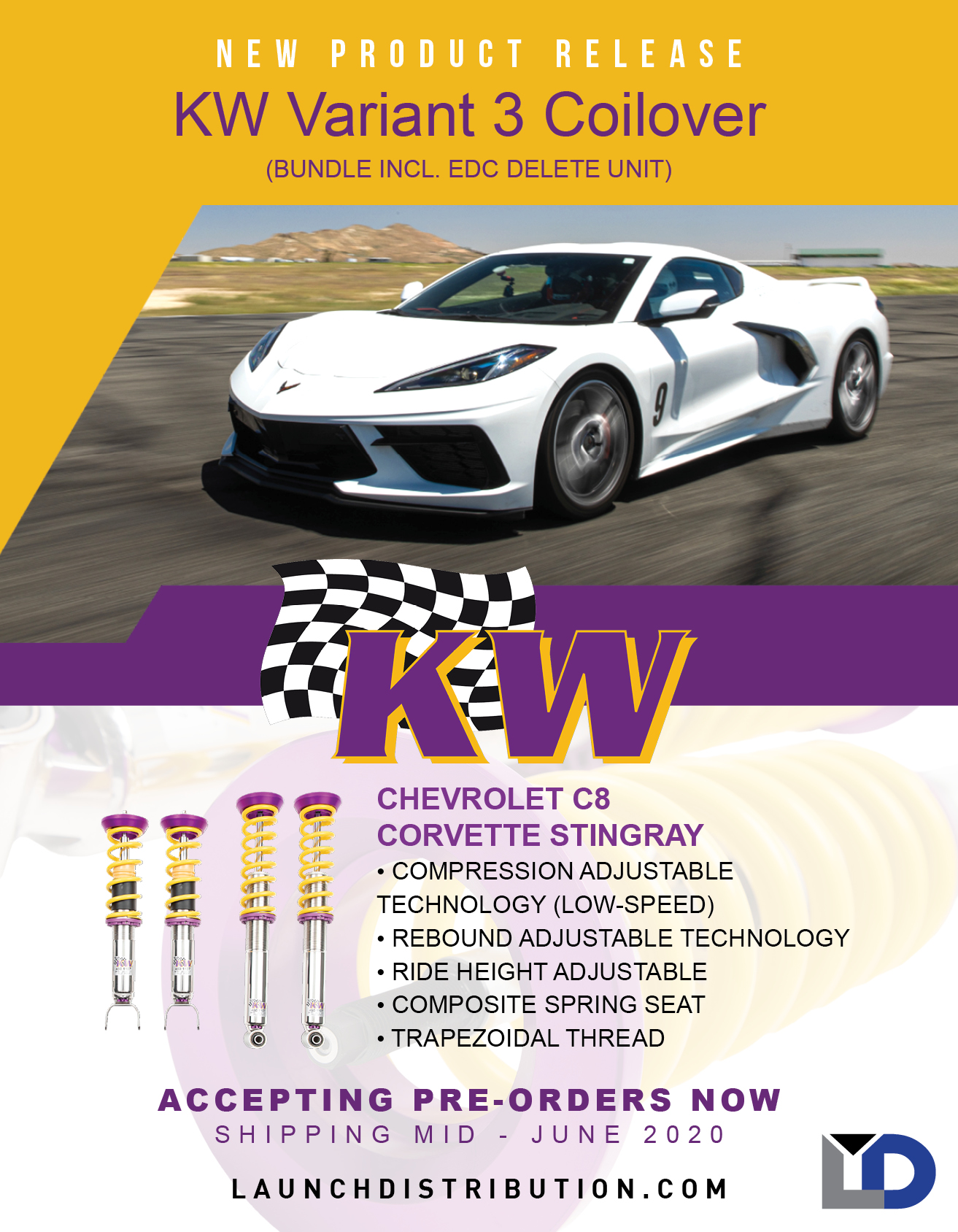 KW suspensions, the premiere high-performance coilover suspension manufacturer based in Germany, has developed the first in the market fully adjustable coilover suspension kit for the new 2020 Chevrolet C8 Corvette Stingray. The redesigned iconic American Sports car comes packed with 6.2L LT2 V8 engine neatly nestled between the passenger cabin and rear axle marking the first time a mid-engine Corvette has been released for production. The reconfigured vehicle was built to sit lower and handle even better than its legacy vehicles before it. So of course, KW suspensions set out to push the new C8 Corvette's performance even further with the addition of their Variant 3 Coilovers. On undulating asphalt surfaces, the KW suspension maintains perfect harmony and prevents nervous driving behavior. The pitch and roll movements of the chassis and body are noticeably reduced. Thanks to the KW multi-valve damper technology the independent adjustment of compression (12 clicks), and rebound (16 clicks) settings, the driving dynamics improvement of the new C8 Corvette suspension is stunning. The seamlessly adjustable ride height is configurable between 0-25 millimeters on the front and rear axles. With a weight distribution of almost 40:60, rear-wheel drive and a 490 hp six-liter eight-cylinder mid-engine, the new Chevrolet C8 Corvette Stingray is a worthy supercar successor of the almost perfect C7.
Call your LAUNCH Sales person to place your ORDER NOW!!!!