LAUNCH Distribution announces a new release of a MACH Force XP Exhaust System for the 2003-2004.5 Dodge RAM 2500/3500 L6-5.9L (td) Cummins by aFe Power.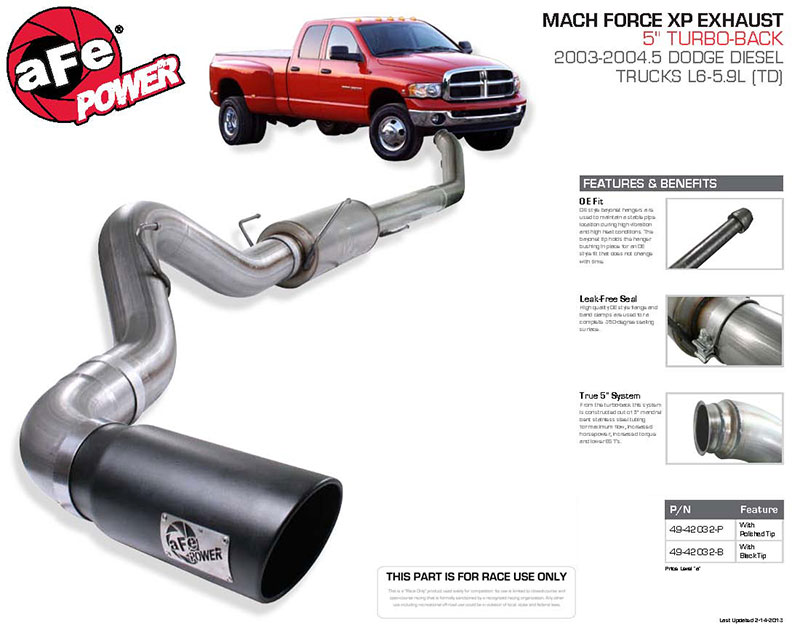 The MACH Force XP exhaust is engineered to perform in the most extreme environments. This system is constructed from 5″ mandrel bent 409 stainless steel tubing for maximum flow, increased horsepower, increased torque and lower EGT's. This system is available in 5″ turbo-back with muffler and 6″ powder-coated black tip. MACH Force XP exhaust systems are the perfect combination of performance, fit and value.
Installation is a Snap:
All systems use factory mounting locations providing stability and hassle-free installation.
Leak-Free Seal:
High quality OE style flange and band clamps are used for a complete 360 degree sealing surface.
Aggressive Sound:
A free-flowing 24″ long muffler is used to absorb high pitch tones producing a powerful sound and unleashing all available horsepower and torque out of your rig.
OE Fit:
OE style bayonet hangers are used to maintain a stable pipe location during high vibration and high heat conditions. The Bayonet tip holds the hanger bushing in place for an OE style fit that does not change with time.
Flow and Performance:
Mach FORCE XP exhaust systems are constructed of 5″ mandrel bent stainless steel tubing for maximum flow. Smooth transition bends allow for low turbulence, increasing horsepower, torque and lowering EGT's.
Powder Coated Black Tip:
Finishing off the exhaust is a powder-coated black 304 stainless steel slash cut exhaust tip. This tip features a drain port on the bottom to keep rust and corrosion away.
Does Not Fit Cab & Chassis.
Note: This is a "Race Only" product used solely for competition. Its use is limited to closed-course and open-course racing that is formally sanctioned by a recognized racing organization. Any other use including recreational off-road use could be in violation of local, state and federal laws.
Place your order
Call your LAUNCH Distribution Sales person for availability and pricing at (626) 839-7150.