LAUNCH Distribution is proud to introduce the new 2.5" & 3" Hi-Tuck "RB" Cat-Back exhaust systems for the 2012-2013 Jeep Wrangler Unlimited with the V6-3.6L engine by aFe Power.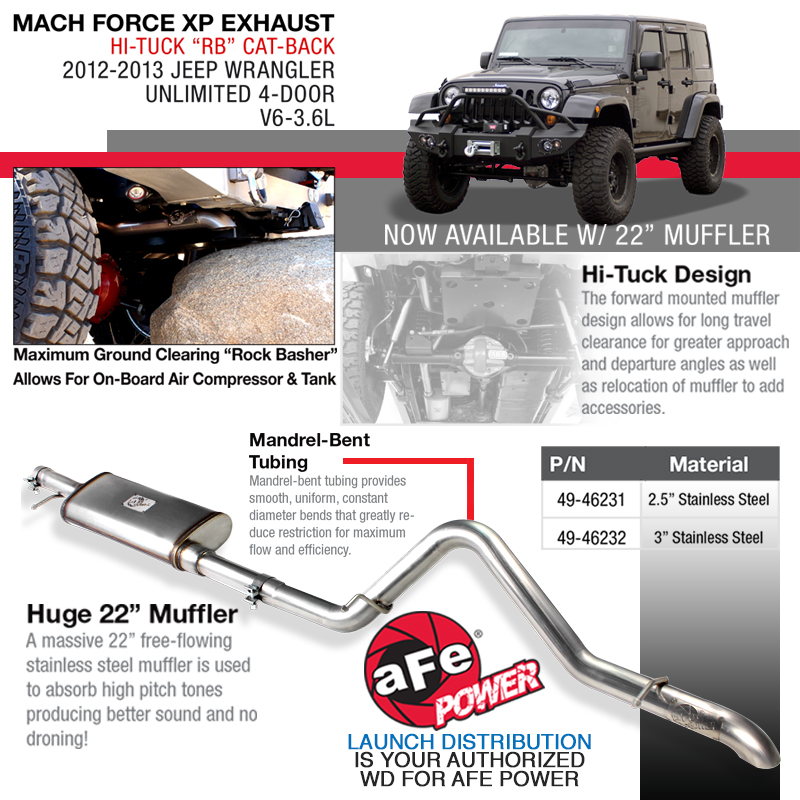 This MACH Force XP Hi-Tuck "RB" Cat-Back exhaust system is constructed of mandrel-bent 409 stainless steel tubing. The system comes complete with a 22″ free-flowing muffler, OE style bayonet hangers, band clamps and all hardware necessary for a hassle-free installation. The smooth curves and increased diameter of this exhaust system helps remove restriction and keeps exhaust gas flowing smoothly for increased horsepower, torque and throttle response. Engineered with off-roading in mind, these systems use large 22″ forward mounted mufflers, for long travel clearance and allows for greater approach and departure angles. The driver side exit location is perfect for adding on-board air compressor systems to the underside of your Jeep. If you are considering an on-board air compressor kit, you need to use this system.
Part Numbers
49-46231
2.5" Diameter Stainless Steel

49-46232
3" Diameter Stainless Steel (P/N: 49-46232)

Place your order
Contact your LAUNCH Sales Rep for pricing at (626) 839-7150.