LAUNCH Distribution is proud to announce the MACH Force XP cat-back exhaust system for the 2011-2014 Ford Mustang GT with the V8-5.0L engine by aFe Power.  In recent testing this system produced 23 horsepower and 19 lbs. x ft. of torque.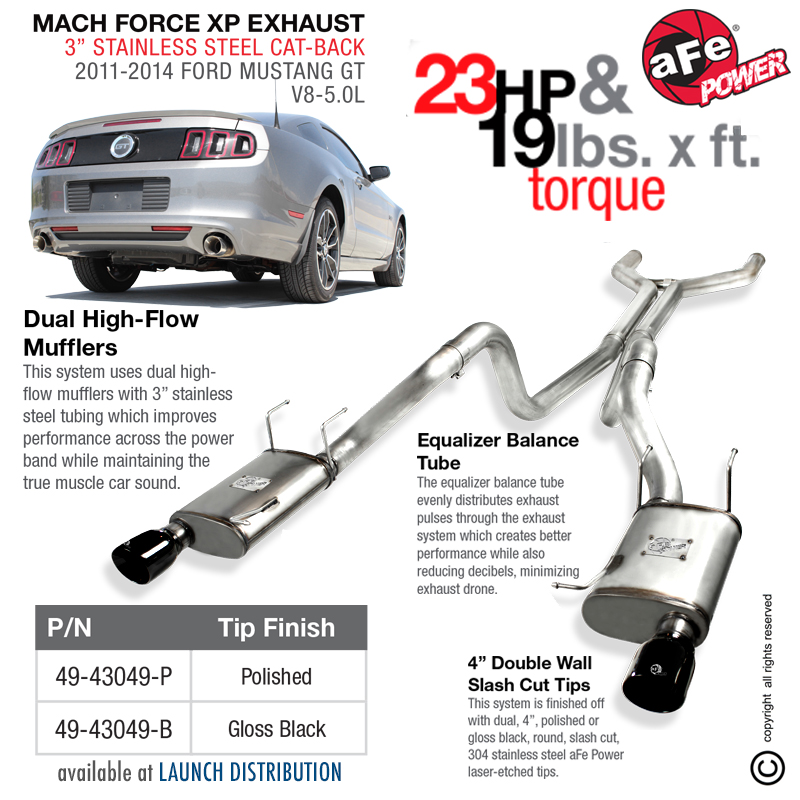 Features and Benefits
This exhaust system is constructed from 3.0" mandrel bent, stainless steel and is MIG-welded.  The system uses dual high-flow mufflers with 3.0" tubing which improves performance across the power band while maintaining the true muscle car sound.  aFe has incorporated an equalizer balance tube to evenly distribute exhaust pulses traveling through the exhaust system.  This not only creates a more efficient flow and better performance, the equalizer balance tube also reduces sound decibels minimizing exhaust drone.  Included in this system are two dual 4″, double wall, gloss black or polished, 304 stainless steel, slash cut aFe laser etched exhaust tips.  This exhaust uses all factory hanger locations for a hassle free installation.  No modifications necessary.
Part Numbers
Polished Tips (P/N: 49-43049-P)
Gloss Black Tips (P/N: 49-43049-B)
Place your order
Contact your LAUNCH sales person for pricing today at (626) 839-7150.
Don't have an account
No problem, click HERE to become a LAUNCH Distribution dealer and take advantage of our competitive warehouse pricing.