LAUNCH Distribution is excited to announce the second generation Water/Methanol HD Injection systems by AEM Electronics.
AEM has completely redesigned its Controller Modules for its HD Diesel Water/Methanol Injection systems for easier installation and programming, and has added kit enhancements to improve system performance and simplify installation.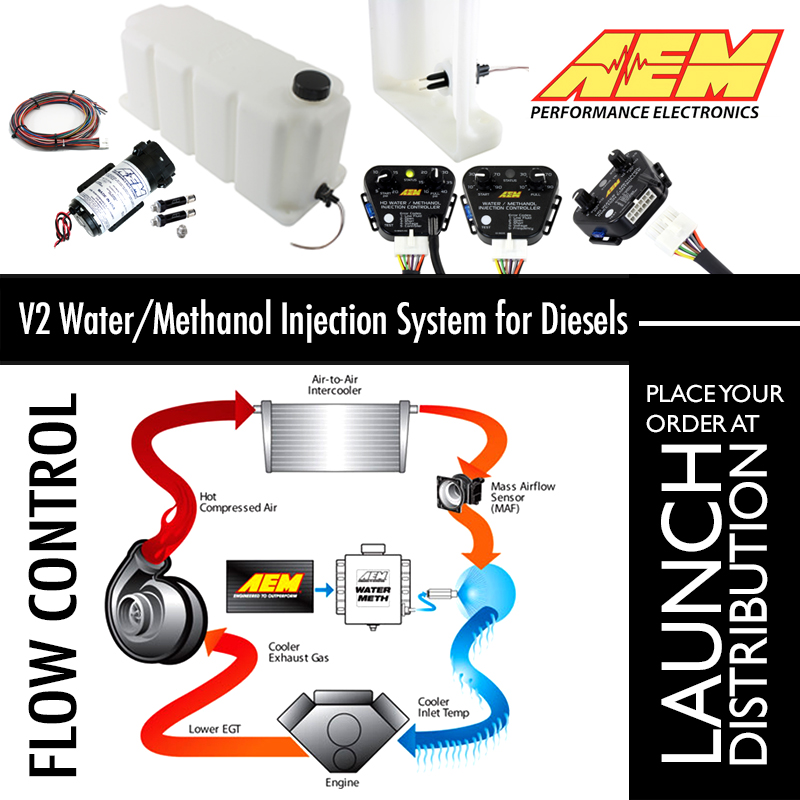 Water/Methanol for Diesels of all Boost Levels
AEM Electronics offers two different water/methanol controller designs for HD turbo Diesel trucks.
One is a Boost Dependent controller (Kit PN 30-3301) with an on-board MAP sensor (up to 40 PSI) and a molded in nipple for a boost hose pickup.
The second HD controller (Kit PN 30-3351) features a multiple input design. The Multi Input controller can be programmed to work with a 0-5v signal from an external MAP sensor for Diesels running over 40 PSI of boost, or with a frequency based Injector Duty Cycle (IDC) signal, frequency-based mass airflow (MAF), or 0-5v voltage-based MAF signal.
Robust, Easy to Use Controllers
The new HD controller designs feature large, turn-resistant knobs and larger numbering to easily set accurate start and full activation points, with covered status LED and test buttons for added splash resistance. A plug is integrated into the HD controller housings for mating to the redesigned wiring harness's positive-lock connector. The Boost Dependent HD controller housing has a molded-in, barbed nipple to accept a boost hose (up to 40 PSI) and a wiring legend on the back. The Multi Input controller has an easy-to-remove plug covering the programming dipswitches and a programming legend on the back for the 0-5v and frequency based settings. Both controller housings feature an easy to access integrated fuse and molded mounting tabs.
Boost Safe Feature
These new controllers retain the "Boost Safe" injection failsafe system, which is an output that will activate if there is a short, loss of continuity or high or low voltage or low fluid condition, allowing users to define their failsafe strategy from something as simple as flashing a warning light to more advanced strategies like pulling boost or ignition, or switching fuel maps on a standalone engine management system.
Simplified Wiring
A new wiring harness is terminated with a positive-lock connector on one end and has color-coded wires to ease installation. Both the power and ground wires for the pump are included in the harness which simplifies the wiring process and eliminates any chance of the pump accidentally activating from a short in the system. An additional wire is included for adding an optional on/off solenoid to stop fluid flow when the system is inactive.
Improved Injector Flow Rate & Nozzle Sizes
AEM's engineers spent extensive time revamping the HD water/methanol controller's flow control strategy for a more linear flow output delivery. This means that the flow delivery better matches an engine's need for water/methanol injection, which further improves charge air cooling and reduces EGTs. Three resized injector nozzles are in each kit and allow for improved flow capability.
New Low Level Fluid Indicator
A high tech conductive low level fluid sensor is integrated into the five-gallon tank and features a positive lock connector with color-matched wires to the wiring harness. The sensor eliminates any chance of incorrect readings due to interference from debris.
Controller Features:
Boost Dependent 30-3301 HD kit (40 PSI max) includes on board MAP sensor and molded-in nipple for boost hose
Multi Input 30-3351 HD kit designed for use with external 0-5v MAP sensor on high boost turbo Diesels, or applications using a voltage or frequency-based MAF or IDC
Large adjustment knobs and numbering for easy programming
Covered status LED and test button for improved splash resistance
Integrated plug for mating to positive-lock connector on harness
Integrated fuse and mounting tabs

Kit Features:
– Terminated harness with positive lock connector, power and ground wires and additional wire for optional on/off solenoid
– 5 Gallon tank with built-in conductive low fluid level indicator
– Includes "Boost Safe" readiness failsafe system
– Two machined billet injectors with integral check valves to prevent unintended flow
– Three interchangeable injector nozzles to cover a wide variety of HP levels (one 500 cc/min nozzle & two 1,000cc/min nozzles)
– Recirculation-style pump with integral fittings for quiet operation
– LED dash light for system status and low fluid warning
– 20 ft. of high-pressure Nylon injection tubing
Place your order
Call your LAUNCH sales person at (626) 839-7150.