LAUNCH Distribution is proud to introduce the new products for the 2010+ Camaro from Whiteline.
Activate More Grip with Whiteline's adjustable rear alignment set up. Consisting of adjustable toe, trailing and lower control arms, they are designed to modify factory camber, toe and track on the 2010+ Chevrolet Camaro.
Part numbers: KTA144, KTA143, and KTA142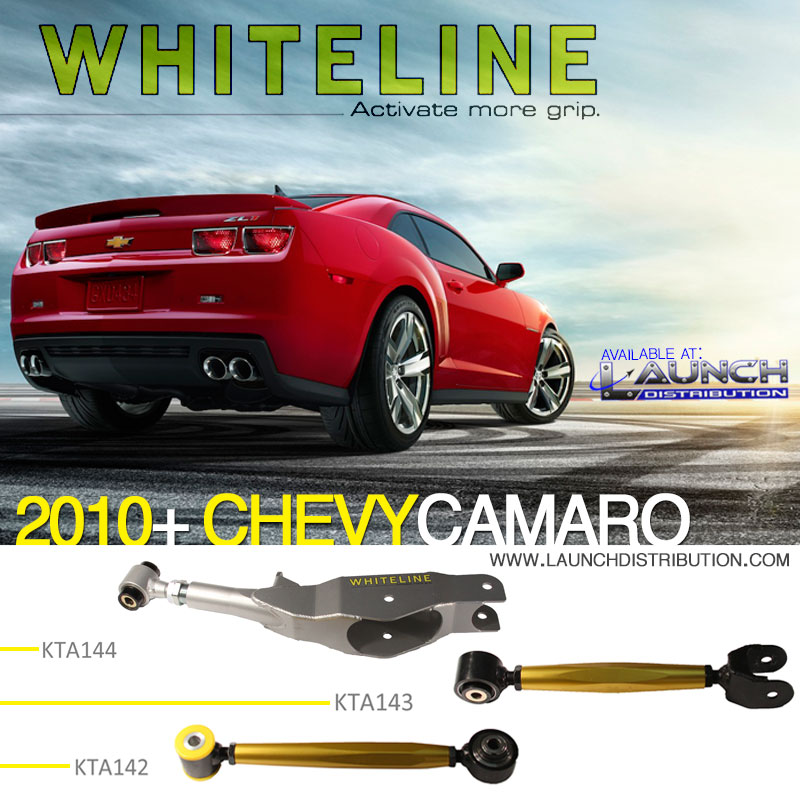 PRODUCT BENEFITS
Brand new arms fitted with Whiteline bushings and premium quality ball joints (where required). Sold in pairs, Whiteline complete replacement suspension arms makes suspension replacement easy.
ABOUT WHITELINE
Whiteline boasts a worldwide reputation as a leading manufacturer of replacement, enhancement and performance suspension components that deliver significant gains in vehicle balance, steering precision, grip levels and outright driving performance.
Consisting of adjustable sway bars (also known as Stabilizer Bars or Anti Roll Bars), chassis bracing, alignment products and chassis control bushing kits, Whiteline products provide automotive workshops, tuners, enthusiasts and racers with innovative solutions to suspension and handling problems while delivering proven performance & problem solving outcomes for many of the world's vehicle platforms.
Place your order
Call your LAUNCH sales person for pricing and availability at (626) 839-7150.