Power Slot® Rotors
Power Slot® rotors are 1-piece, slotted, direct replacement discs for your factory brake system and stock calipers. They offer improved cooling as well as other advantages the competition doesn't offer.
Launched in 1998, Power Slot® was the first premium slotted replacement rotor program in North America. Innovations include e-coating, double-disc grinding, full machining, mill balancing and center-split castings, as well as the availability of directional vanes, cryogenic treatment and the use of Power Alloy. Today, Power Slot® covers more than 2500 applications, all machined in Power Slot's® California manufacturing center. Every Power Slot® rotor is a direct replacement for a factory brake rotor, allowing the retention of factory calipers in the system.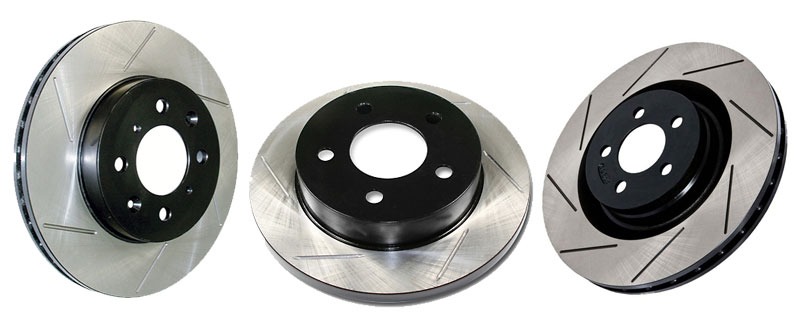 Power Slots
Power Slot® rotors feature a signature "short slot" design. The slot improves brake system performance by wiping away the debris of used friction material that otherwise accumulates between the rotor and pad. This keeps fresh pad material exposed to the rotor surface and helps prevent pad glazing. The edges sweeping the pad slightly increase the effective coefficient of friction, or "bite," amplifying brake system response to pedal input. By providing an escape path for water, slotted rotors can also improve initial brake response under wet conditions.