LAUNCH Distribution is excited to announce the release of AEM Performance Electronics Polaris RZR Plug & Play Adapter Kit for the CD-7 Digital Dash! The kit is comprised of a Plug & Play Adapter Harness (PN 30-2216) for its CD-7 and CD-7L (logging) Digital Dash Displays that includes RZR specific screen layouts designed to get you out riding with virtually no installation or setup time!
The harness offers a true plug & play connection from the CD-7/CD-7L Dash to the Polaris RZR's factory CAN bus through the diagnostic port and receives all available channels from the factory CAN bus system. With a full-color daylight-readable screen, four main pages, a dedicated alarm page, included templates for quick startup and more, the CD-7 is the perfect solution for RZR owners who want to SEE EVERYTHING in the dunes and on the trail.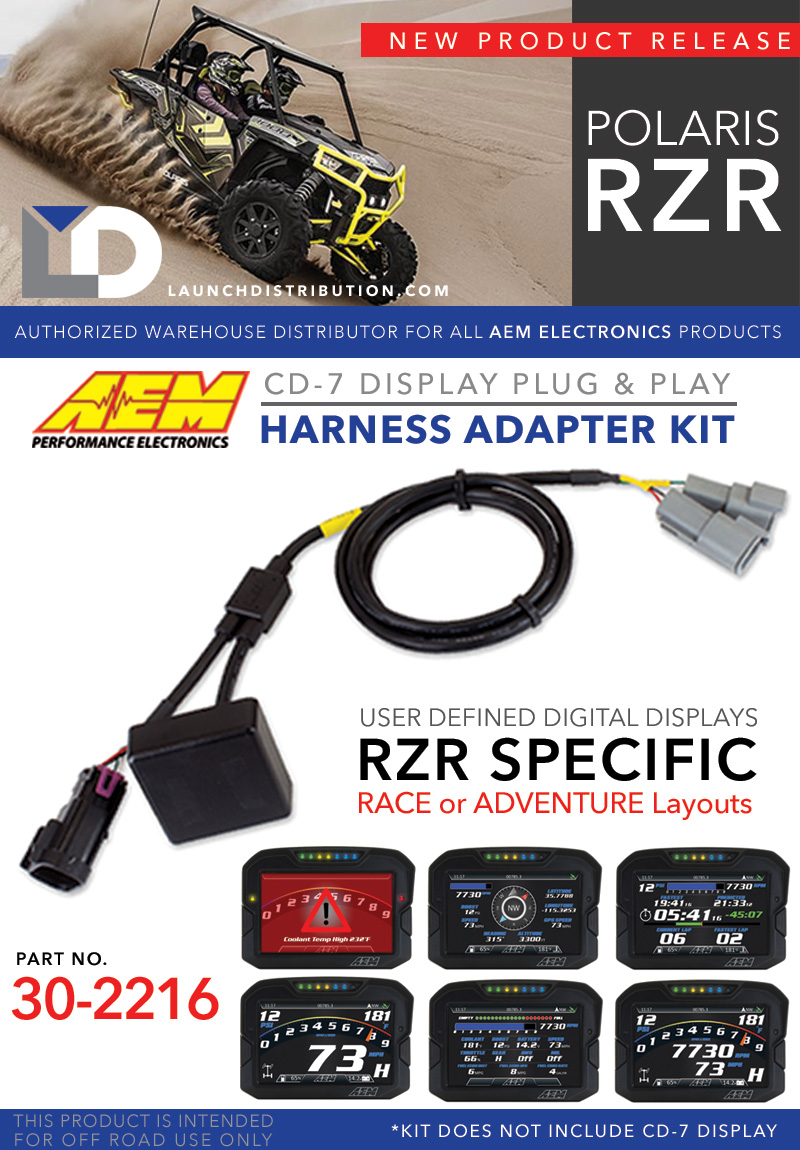 RZR SPECIFIC SCREEN LAYOUTS
AEM engineers have spent countless of hours creating RZR specific layouts in both standard and metric units that will appeal to both weekend enthusiasts and hard core racers.
These include the following:
Four different display pages that include pertinent engine/vehicle data, 12-hour clock, odometer and a digital "floating needle" tachometer with large vehicle speed readout
Dedicated Alarm page trigger for very high coolant temps
Race lap timing or navigation page with heading, direction time and altitude (requires AEM Vehicle Dynamics Module PN 30-2206 or GPS Module PN 30-2207)
Vehicle diagnostics page that displays all channels for monitoring/troubleshooting
Graphic alarm notifications on the four main screens for high coolant temp, low fuel and low battery voltage
Amber LED warning light triggers for high coolant temp, low fuel and low battery voltage
Red LED warning light triggers for CEL/MIL
Green LED neutral safety light