The Agency Power Cup Shifter was designed to give PDK owners a whole new experience in driving their car. Mimicked after the factory cup car style shift knob and assembly, this product makes banging through the gears a lot more fun. The PDK shifts extremely fast but sometimes you want to do the work of going through the gears yourself. The paddles are fun and easy to keep ahold of, but some Porsche drivers just miss the shifting experience. Having your hand on the stock PDK lever does not feel to thrilling. The Agency Power Cup Shifter for the Porsche PDK changes that!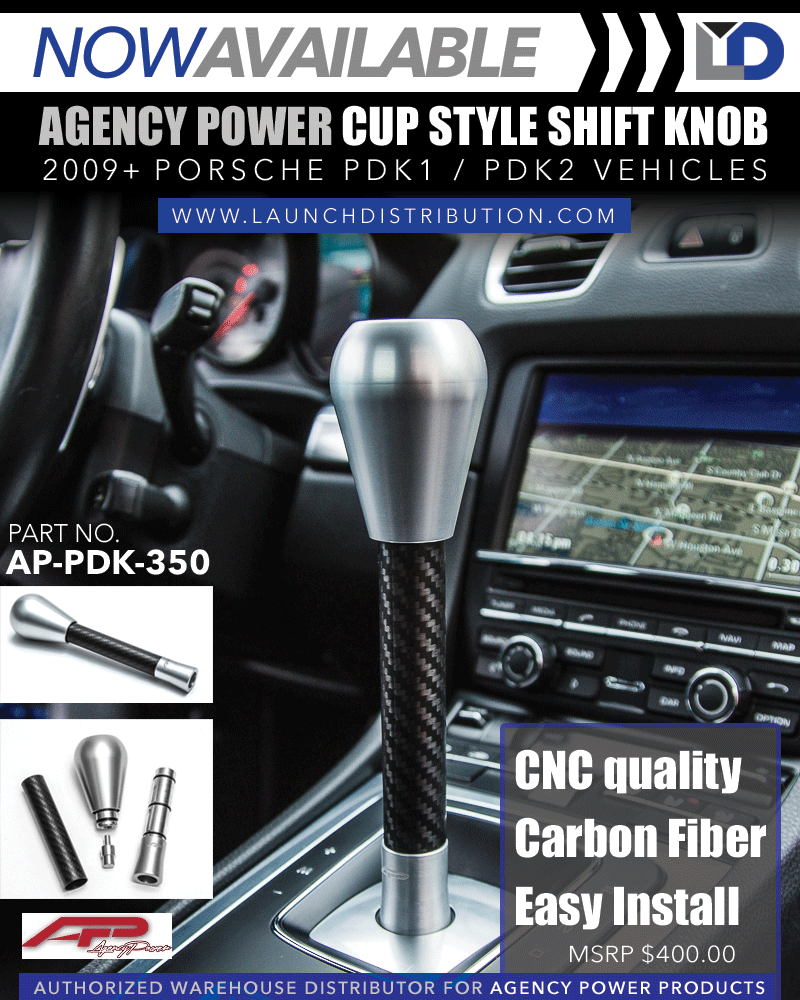 The Cup Shifter is designed here in Gilbert, Arizona of several parts. Starting with CAD drawings and using 3D printed components, we developed a prototype to test in a vehicle which also allowed for easy installation. The stock knob comes off without requiring the removal of any other center console pieces. This process takes less than 20 minutes to swap our parts. It is necessary of the Cup Shifterto retain the function like the stock PDK knob. This requires the need to go between P, R, N, D with a spring mechanism. The shift knob is CNC machined from 6061 aluminum featuring the cup car style cavity on the top. Inside, it features an actuator pin and bushing to work with the stock spring compression. The weight of the knob is just right to give you a solid shifting sensation and the design is very ergonomic to the hand. The shift knob has been clear anodized over the brilliant CNC machined finished.
The height of the shifter is increased about 3 inches over the stock PDK lever. This puts the Cup Shifter at a great position in reference to the steering wheel. You now can have quick hand placement from the steering wheel to shift knob to smash through the gears like a pro! Connecting the shift knob to the base is an eloquent carbon fiber tube with a slight gloss finish. This attaches to the base stock utilizing rubber O-rings for a secure fit, however lets you easily disassemble and reassemble. The base stalk is also CNC machined from 6061 aluminum. Clear anodized, the base features a very simple Agency Power AP logo that has been laser engraved. The finish on the base closely matches the factory PDK shifter surround to look OEM.
Fitment:
Porsche 987.2 Cayman | Boxster
Porsche 997.2 Carrera | S
Porsche 997.2 Turbo | S
Porsche 991 Carrera | S
Porsche 991 GT3 | GT3RS
Porsche 991 Turbo | S
Porsche 718 Boxster | Cayman
Porsche 958 Cayenne All Models
Porsche 95B Macan All Models
Porsche 970 Panamera All Models
Will fit all PDK vehicles with similar looking shift knob assembly.