Launch Distribution is proud to announce the arrival of KYB Shocks and Struts to our vastly growing inventory.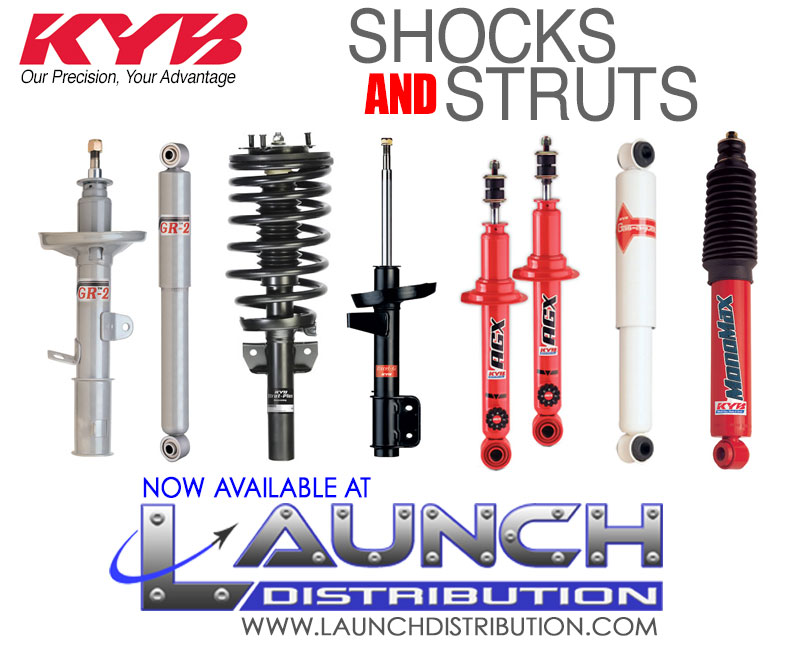 KYB began as Kayaba Research Center, founded in Japan on November 19, 1919 by Shiro Kayaba. Having established itself in the manufacture of hydraulic dampers, the company became known as Kayaba Manufacturing Co., Ltd. in 1935. The company grew steadily, and in 1959, was listed on the Tokyo Stock Exchange.
In 1974 a sales subsidiary was established in the United States. Today, that company is known as KYB Americas Corporation.
In 2005, the brand name KYB was adopted as the official corporate name.
A commitment to engineering innovation and manufacturing excellence has helped KYB to become the world's largest supplier of shocks and struts for auto manufacturers and the aftermarket. Nearly one in every four autos built comes with KYB shocks and struts. KYB has manufacturing facilities in Japan, the United States, and Europe.
KYB Corporation produces a variety of ride control, hydraulic, and electronic products for use as original equipment and replacement parts in automobiles, motorcycles, trucks, specialty vehicles, buses, aircraft, railroad cars, industrial applications, agricultural applications, and civil engineering projects. Our global headquarters are located in Tokyo, Japan.
Place your order
Call your Launch Sales Rep for applications and pricing at (626) 839-7150.