Launch Distribution is proud to announce the addition of Extreme Dimensions to our prestigious inventory.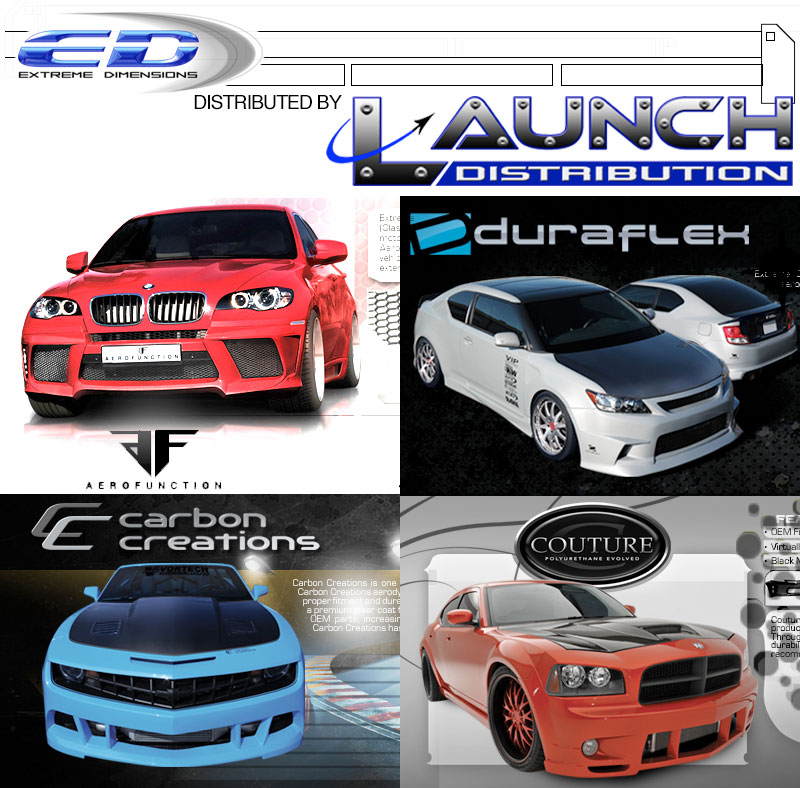 About
Extreme Dimensions, Inc. is recognized across the globe as one of the premier aerodynamic manufacturers in the industry. With over 7,000 products in our catalog, Extreme Dimensions has become the largest manufacturer of aerodynamics in North America with distribution throughout the Americas, Australia, Europe, and Asia. We have been proudly headquartered in the United States since our inception in 2000, and our product lines of fiberglass, carbon fiber, and polyurethane products continue to develop and grow. With a strong dedication to quality, value, and customer service, we consistently exceed industry standards. Our focus is always to meet the needs of the automotive and truck markets.
To help ensure our ability to provide superior customer service, our U.S. Headquarters have expanded to a 100,000 square foot distribution center and our overseas manufacturing facility currently exceeds 200,000 square feet. Additionally, we employ over 300 people throughout the company to ensure industry-leading quality and customer service.
Extreme Dimensions distributes some of the most recognized aerodynamics brands in the industry. Duraflex products offer fiberglass aero at an exceptional value with increased durability. Our Carbon Creations line exemplifies our devotion to quality and value by providing Grade "A" carbon fiber aerodynamics, a top choice among motorsports and industry professionals. For those who demand exceptional fitment and unmatched durability that polyurethane offers we're proud to offer the Couture line
When it comes to maintaining our reputation as an aerodynamics leader, we never rest. Soon you'll find even more of our brands revolutionizing the industry. Our highly-anticipated new Dritech line is set to bring advanced manufacturing techniques and unrivaled quality to the carbon-fiber market. We're also now an official distributor of Aero Function premier aerodynamic parts. Catering exclusively to some of the most prestigious marquees in the automotive industry, Aero Function offers guaranteed fitment at an exceptional price.
Here at Extreme Dimensions we are committed to continuing to set the industry standards. With over 10 years of experience, Extreme Dimensions has become the premier choice for aftermarket aerodynamics. Check back with us often for updates on our ever-expanding line of products, and much more.
Place your order
Contact your Launch Distribution Sales Rep for pricing and applications at (626) 839-7150.