LAUNCH Distribution is excited to announce the aFe dual cat-back exhaust system for the 2013-14 Porsche 991 Carrera 2S with the H6-3.8L naturally aspirated engine. In recent testing this aFe cat-back exhaust system produced 34 horsepower and 43 lbs. x ft. of torque, furthermore, weighs 20 lbs. less than the stock exhaust. With the iconic 911 already a well-engineered performance driving machine, aFe developed the perfect balance of pure, race-inspired performance while ensuring that perfect sound decibel and exhaust note creates the ultimate driving experience. Starting with a CAD X-Pipe, aFe spent countless hours of R&D to ensure that the volume, flow and balance was no less than perfect. Furthermore, aFe's unique brushed finish step mid pipe design unleashes all available power and creates a broad and exciting power band. Included are dual 304 stainless steel light-weight race mufflers and resonators, this straight through design eliminates any restriction and optimizes maximum power and performance with no compromise. Available with 3.5" pure carbon fiber quad tips and CNC-Machined laser-etched tip inserts, this system is hand-crafted and TIG-welded for a perfect, precise fit and 100% complete bolt-on installation. No modifications necessary.
VIDEO: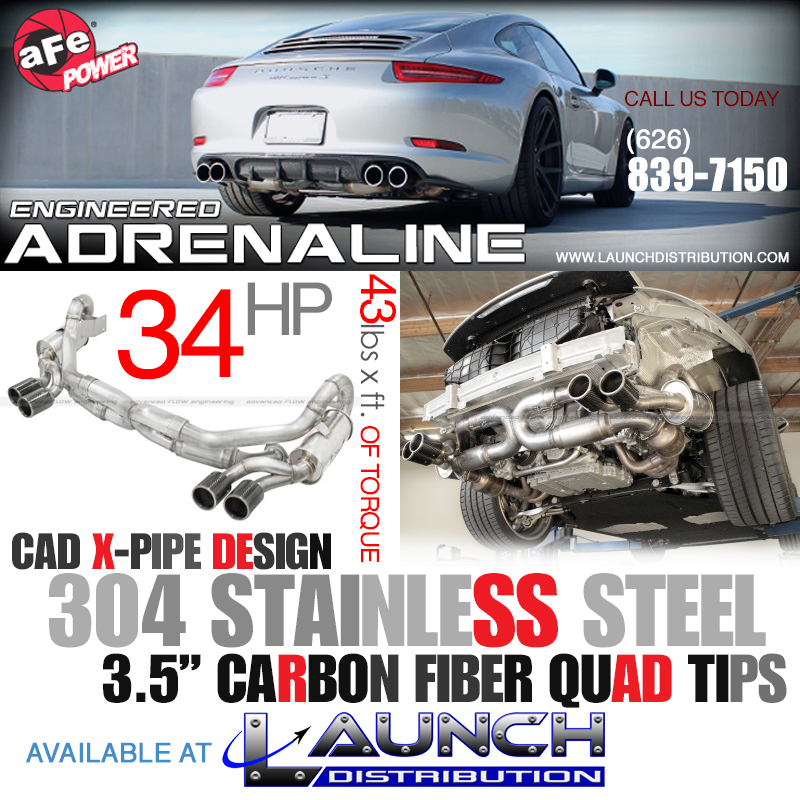 PART#
49-36406-C
Also Fits: All Carrera 991 Models
WILL NOT FIT 991 TURBO AND 911 MODELS
For complete details contact your LAUNCH Sales rep at (626) 839-7150.