LAUNCH Distribution is proud to introduce the all new headers for the popular 2001-2006 BMW M3 (E46) with the L6-3.2L S54 engine from aFe Power.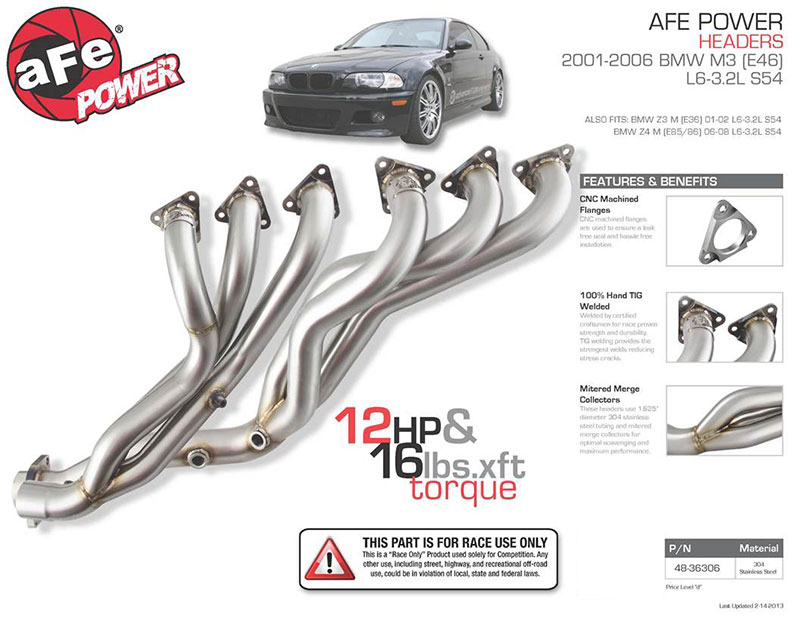 (P/N: 48-36306)
aFe Power's new "Race Only" Twisted Steel Headers deliver an astounding 12hp and 16lbs. x ft. torque while outflowing the factory exhaust manifolds. The headers are constructed of near equal length 1.625" 16-gauge 304 stainless steel tubing with 3/8" thick CNC machined flanges to ensure a leak free seal. To eliminate dead space that can cause turbulence and hinder flow that formed collectors are prone to produce, true merge collectors and optimized tube lengths are used for true pulse control technology improving flow and performance. 100% TIG-welded, the smooth curves and increased diameter of this header helps remove restriction and keeps exhaust gas flowing smoothly for improved performance and durability. All components are supplied for a hassle-free installation with no modifications necessary.
Tig-Welded:
100% TIG-Welded by certified craftsmen for race proven strength and durability. TIG-Welding provides the strongest welds reducing stress cracks.
Retain Factory Sensors:
aFe has designed this system to retain all your factory sensors for a hassle free installation.
Mitered Collectors:
Mitered collectors not only extend the tube lengths and decrease turbulence, but provide optimal exhaust scavenging. The result is increased horsepower, torque and improved throttle response.
CNC Machined Flanges:
Flanges are CNC machined not only to be visually appealing but for a precise fit and leak-free seal.
Brushed 304 SS Construction:
These headers are constructed of durable CNC mandrel bent brushed 304 stainless steel tubing for maximum performance, corrosion resistance and strength eliminating cracking.
Note:
This is a "Race Only" product used solely for competition. Its use is limited to closed-course and open-course racing that is formally sanctioned by a recognized racing organization. Any other use including recreational off-road use could be in violation of local, state and federal laws. A check engine light will emitt and aFe recommends using a programmer but it is not necessary.
Also Fits:
BMW Z3 M (E36) 01-02 L6-3.2L S54
BMW Z4 M (E85/86) 06-08 L6-3.2L S54
Place your order NOW!
Call your LAUNCH Sales person today at (626) 839-7150.