Now Available:
LAUNCH Distribution is excited to introduce the all new Stage-2 sealed intake system for 2011-2015 BMW 535i (F10) L6-3.0L (t) with the N55 engine by aFe Power.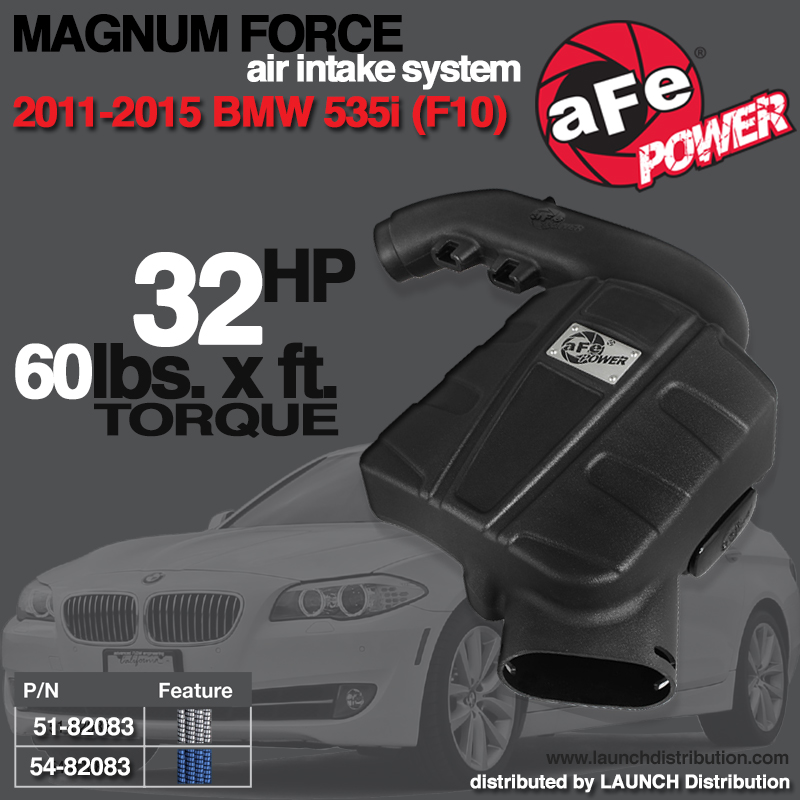 Features:
Test reports show this Stage-2 sealed intake system resulted in 32 horsepower and 60 lbs. x ft. torque max gain. The housing features an auxiliary air inlet for improved airflow. The air filter frame is constructed using 100% polyurethane for durability, long life and multiple cleaning cycles. This intake system also features a heat-insulating roto-molded plastic tube that replaces the stock intake tract and directs increased airflow with improved volumetric efficiency for maximum performance. The tube has integrated mounting tabs for the engine cover to retain a factory style fitment.
Installation:
This direct bolt-on system requires no modifications and includes all necessary hardware for a hassle-free installation.
Part Numbers:
+ Pro 5R (P/N: 54-82083)
+ Pro DRY S (P/N: 51-82083)
Order Now!
Call your LAUNCH Distribution Sales person for pricing at (626) 839-7150.