LAUNCH Distribution is proud to introduce the Takeda dual cat-back exhaust system for the 2009-14 Nissan GT-R (R35) with the V6-3.8L twin turbo engine by aFe POWER.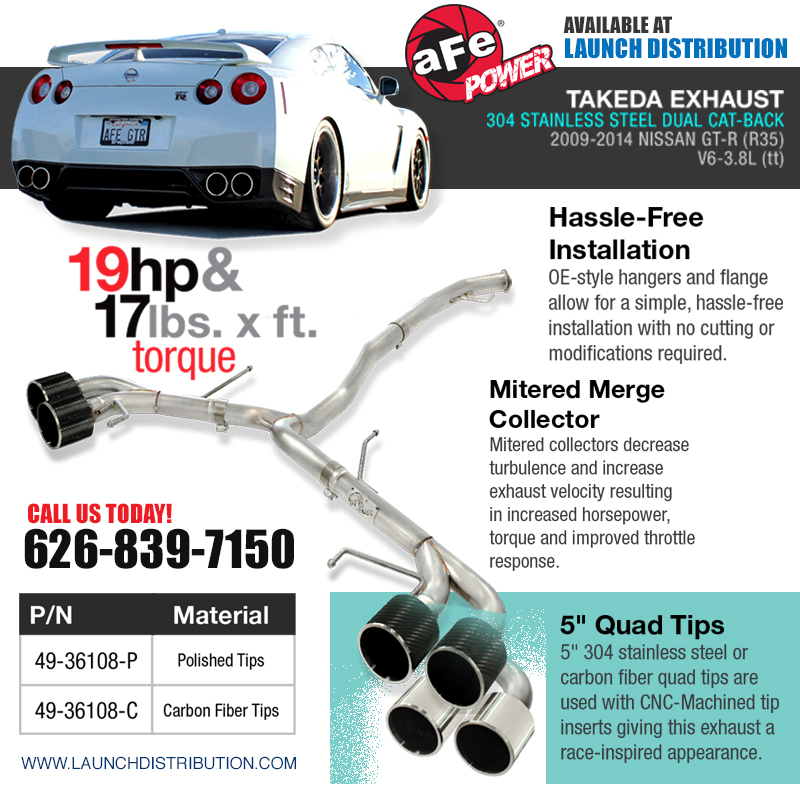 Features:
In recent testing this Takeda cat-back exhaust system produced 19 horsepower and 17 lbs. x ft. of torque. Countless hours of R&D was used to develop this muffler-less, straight thru design eliminating any restriction and optimize maximum power and performance with no compromise while maintaining the perfect decibel level. Available with massive 5″ lightweight carbon fiber or polished 304 stainless steel quad tips, this exhaust system is constructed out of mandrel-bent 304 stainless steel with a brushed finish 3″ to dual 2.5″ tubing. Hand-crafted and TIG welded, this exhaust system uses all factory mounting locations for a simple, leak-free, bolt-on installation. To finish off this exhaust are race-inspired CNC-machined stainless steel 5″ tip inserts with Takeda laser-etched logos giving this exhaust an aggressive yet elegant look.
Available part numbers:
Carbon Fiber Tips (P/N: 49-36108-C)
Polished Tips (P/N: 49-36108-P)

Place your order now!
Contact your LAUNCH sales rep for pricing and availability at (626) 839-7150.