LAUNCH Distribution is proud to introduce the all new Takeda Cat-Back exhaust system for the 2009-2013 Nissan 370Z by aFe Power.
Key Features:
This Takeda Cat-Back exhaust system produced 12 horsepower and 12 lbs. x ft. of torque. This unique dual exhaust system is constructed from 2.50″ mandrel bent stainless steel and is TIG-welded. An X-pipe balance tube is used to equalize and evenly distribute exhaust pulses which minimizes exhaust drone and increases flow and performance. Countless hours of R&D was used to ensure the perfect decibel level without compromising performance while maintaining Nissan's distinct exhaust tone. To finish off this exhaust are dual 14″ length mufflers and 4″ dual, double wall, polished, Takeda laser etched, 304 stainless steel tips.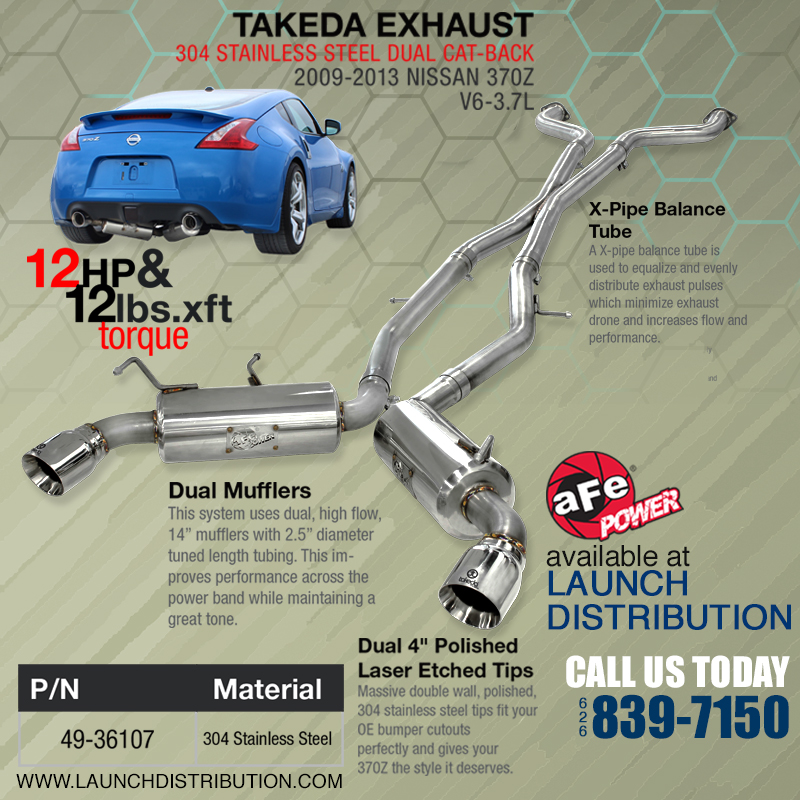 P/N: 49-36107
This exhaust uses all factory hanger locations for a hassle-free installation. No modifications necessary.
Place your order with us
Contact your LAUNCH Sales person today at (626) 839-7150.