AEM has released the Infinity-6 and Infinity-8h ECU, an affordable state-of-the-art engine control unit designed for four- and six-cylinder racing engines and V8 racing engines using high-impedance injectors. Extensive research and development was put into designing the Infinity-6/8h to ensure that it delivers an unmatched price point for this level of engine control.
Infinity-6
The Infinity-6 is designed for racing engines with up to 6 cylinders. It features a smaller footprint than the Infinity-8/10 (5.855" x 5.55" x 1.8") and a single, weatherproof 80-pin connector.
Infinity-8h
The Infinity-8h is designed for high performance V8 crate engines and smaller race engines using high impedance injectors. It also features the same small footprint and single, weatherproof 80-pin connector as the Infinity-6.
Features
The Infinity-6/8h include all of the advanced features found in its larger iteration including the latest generation 200 MHz automotive processor that can process 400 MIPS. Airflow model based (VE) tuning eliminates lookup of many correction tables needed in previous generation ECUs. Flex fuel and multi-fuel capability, on-board wideband air/fuel control, map switching and knock control are included. Engine protection strategies include coolant temp, oil temp, AFR vs. MAP, intake air temp, knock or fuel pressure. Programmable drive-by-wire, variable cam timing, boost control, nitrous control and traction control are included. Data logging up to 64GB via a removable USB is standard with logging rates up to 1KHZ per channel. The Infinity-6/8h is able to communicate with 3rd party dashes and loggers and is AEMnet enabled. All maps can be password protected. Its sealed enclosure and IP67 rated communications ports are suitable for engine bay mounting.
Wiring Harnesses
AEM offers a flying lead wiring harness for the Infinity-6/8h that is 96" in length and pre wired with power, grounds, a power relay, fuse block, wideband and AEMnet. A Plug & Pin kit is also available for the Infinity-6/8h that includes an 80-pin connector with cover, 80 small pins, 1 micro relay with pins and 30 sealing plugs. Many Plug & Play adapter harnesses for popular race vehicles are currently in development and will be available in the near future.
Support
When you combine the Infinity-6/8h's capabilities and price point with AEM's industry leading after-purchase support system that includes free technical support, there is no question that it is the ultimate engine control solution for race teams and weekend track cars with 4-6 cylinders or crate V8s/engines up to 8 cylinder using high impedance injectors.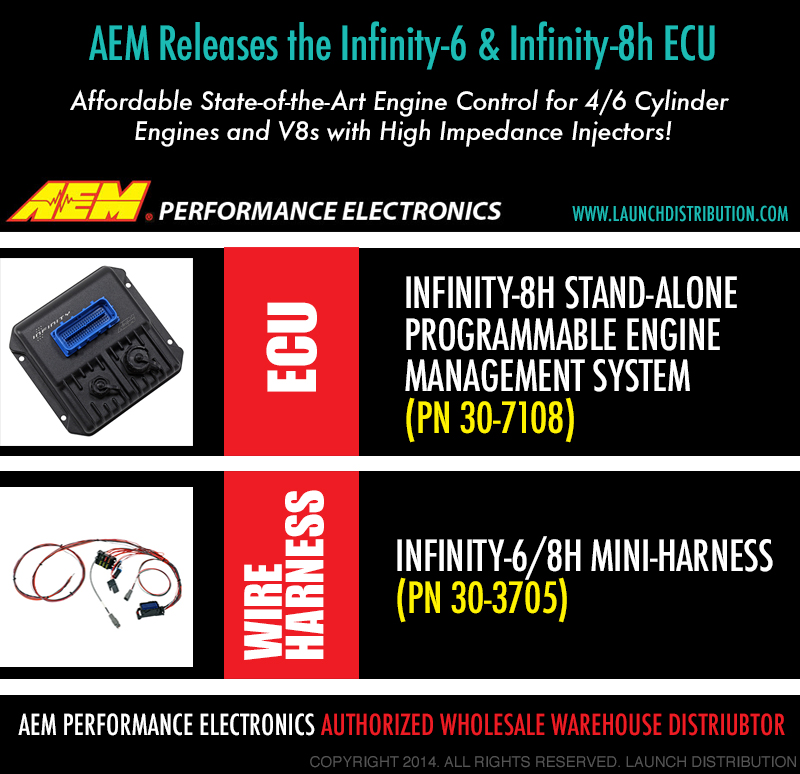 – Airflow model based (VE) tuning
– ECU Set Up Wizard simplifies start up
– Flex fuel compatible
– Multi fuel capable
– Drive by wire
– Variable valve control
– Multiple boost control strategies
– Nitrous control
– Map switching
– Internal Wideband UEGO air/fuel controller
– Dual knock sensing circuits
– Data logging up to 64GB, up to 100 channels at 1KHz
– Outputs to 3rd party dashes and data loggers
– Industry leading data transfer speed (up to 480Mb/sec)
– Integrated engine protection strategies
– Sealed enclosure and IP67 rated comms ports
For more information contact your LAUNCH sales person today at (626) 839-1750.
*THIS PRODUCT MAY BE USED SOLELY ON VEHICLES USED IN SANCTIONED COMPETITION WHICH MAY NEVER BE USED UPON A PUBLIC ROAD OR HIGHWAY, UNLESS PERMITTED BY SPECIFIC REGULATORY EXEMPTION (VISIT THE "EMISSIONS" PAGE AT HTTP://WWW.SEMASAN.COM/EMISSIONS FOR STATE BY STATE DETAILS. INSTALLERS/USERS LOCATED OUTSIDE THE UNITED STATES SHOULD ACT IN ACCORDANCE WITH THEIR LOCAL LAWS AND REGULATIONS.
**IT IS THE RESPONSIBILITY OF THE INSTALLER AND/OR USER OF THIS PRODUCT TO ENSURE THAT IT IS USED IN COMPLIANCE WITH ALL APPLICABLE LAWS AND REGULATIONS, AND THIS PRODUCT MUST NOT BE PURCHASED IF THE INTENT IS TO USE IT IN AN UNLAWFUL MANNER.