LAUNCH Distribution is proud to announce the arrival of ACT Performance Clutches to its continually growing motorsports line up. A large shipment of one of the most talked about performance clutches has recently arrived on our warehouse floor. As a LAUNCH Distribution Dealer, NOW you can be an authorized ACT Performance Clutch Dealer just buy purchasing the product directly from us. Call your LAUNCH sales rep for complete details.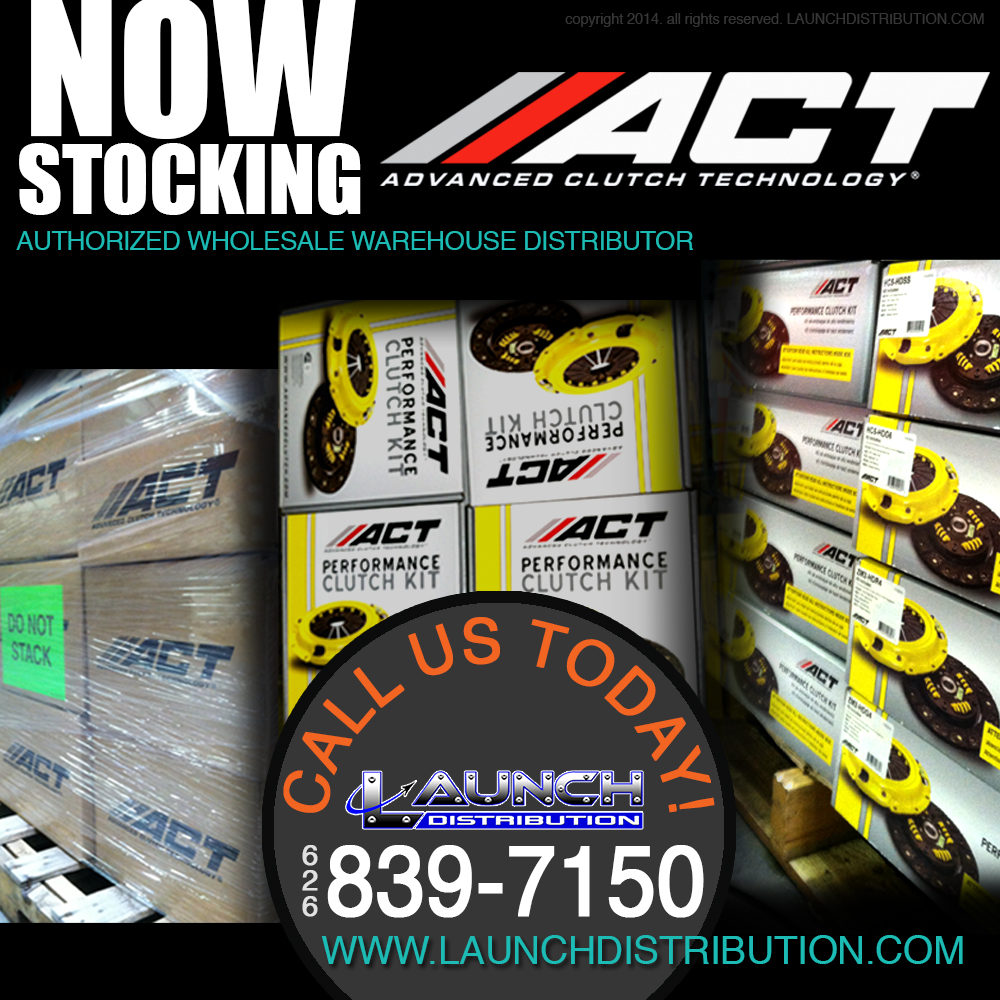 ABOUT ACT:
Advanced Clutch Technology, Inc., since 1994, has specialized in performance clutches and flywheels for the sport compact, domestic and diesel truck markets. ACT's focus on customer service, quality and performance has earned it an unparalleled reputation in the aftermarket industry. All ACT product is thoroughly researched and tested prior to release to ensure they perform to the customers' expectations. This commitment to excellence has resulted in providing racers with championship wins. These standards also ensure ACT's street products provide the performance demanded.

DESIGN & ENGINEERING:
ACT designs, engineers and develops clutch kits and flywheels using knowledge gained from decades of track and performance street experience. ACT clutch kits stand unequaled in terms of consistent and predictable pedal feel, high torque capacity, long wear life and durability. These key advantages are produced by combining the best engineering and design methodologies with the latest in materials and manufacturing techniques.
Advanced CAD, CAM and FEA tools are utilized to develop every ounce of performance and reliability. Each new product candidate is subjected to a painstaking development cycle with rigorous quality gates. If the end result does not perform significantly better, address issues common to each application and stand up to highly modified engines, it does not get put into production.

ENGINE PERFORMANCE:
The clutch transmits torque produced by the engine at the flywheel – not horsepower. It does not care about how much torque makes it through the transmission and differential to the tires. The only way to accurately measure engine torque is with an engine dynamometer. Since very few people are willing pull their engines out just so we can help them choose a clutch, either a chassis dyno or a realistic estimate is needed.
PLACE YOU ORDER
Contact your LAUNCH Sales rep for available applications and pricing at (626) 839-7150